Who sings that song? Find out by Shazaming it. Shazam is probably one of the most popular apps available in the iPhone App Store that will change how you discover and buy music. So much so that to Shazam is now being used as a verb, some comics are even being pledged to Shazam. It is also one of the most useful apps around today and to make it even better its a free app.
Shazam listens a short sample of any song being played, records and uploads data about what it hears to the Shazam server, and almost instantly returns the Song name along with the Artist name, Album Name, Genre, Record company and even the Album Cover. Just hit "Tag Now" and watch the spinning record do its magic. Shazam vibrates once it has found the result and slides to show you the results.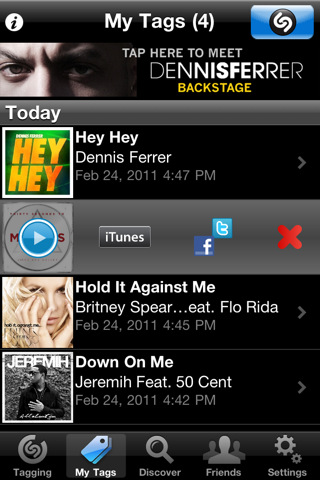 Wanna watch the music video for the song? Wanna buy the song right away from iTunes? No problem. After you have your results, Shazam shows you links to preview and buy the song and other related songs right away from the iTunes store. There are also links to related YouTube videos for the song which open in the YouTube app.
Another great feature of Shazam is its history log, which keeps a log of the past few song you've tagged, so you can have them at your disposal at a future time.
There are also some social features tucked into Shazam. For example you can share the results of a tagged search via email. Shazam also lets you take photos and attach them to your tagged songs and add missing album covers from your photo library. A new friends feature has been added as well, see below for details.
By default Shazam records a 12 second clip to get its results. You can edit the Shazam options under Settings and pick either 8 seconds, 10 seconds, 12 seconds or 15 seconds. Our tests showed that even with only 8 seconds we are able to get accurate results.
Shazam Entertainment is a privately held company headquartered in London. A similar iPhone app called Soundhound is also available in the App Store. Soundhound (previously named Midomi) has a few additional features including finding songs by listening to you humming out a tune.
Here is a video demo of the Shazam app on the iPhone

This 3rd Party App is available at the Apple iTunes AppStore. Browse the full list of all AppStore apps filed under the AppStore category.